When you arrive in Krakow, you will discover a beautiful city which is rich in history and culture. Krakow also has a lively nightlife and is rich of charming cafés! From the Wawel Castle to the medieval Market Square and the fascinating underground salt mines of Wieliczka, this Polish city is well worth a visit at any time of the year. Herewith some info about Krakow.
The language of Krakow
When you go on a holiday or citytrip in a different country, it is always worth to learn a few basic words and phrases before you leave or to bring with you. After all you never know when it could come in handy. Maybe the locals will laugh at your pronunciation, but they surely appreciate your efforts!
The language in Krakow is Polish, which is the official language of Poland. German and French are also common languages spoken here and you may also hear some Russian, but these aren't official languages. Do not worry too much about the Polish language; you should definitely be okay getting by with English in the main tourist areas.
| | | | |
| --- | --- | --- | --- |
| ENGLISH | POLISH | ENGLISH | POLISH |
| Hello | Witaj | Do you speak English? | Czy mówisz po Angielsku |
| Good morning | Dzień dobry | I do not speak any Polish | I nie mów Polski |
| Good evening | Dobry wieczór | Yes / No | Takt / Nie |
| How are you? | Jak się pan ma? | Thank you | Dziękuję |
| I am fine | Mozliwie | You are welcome | Nie ma za co |
| My name is… | Mam na imię | Excuse me | Przepraszam |
| What is your name? | Jak się pan nazywa? | Goodbye | Do widzenia |
The weather of Krakow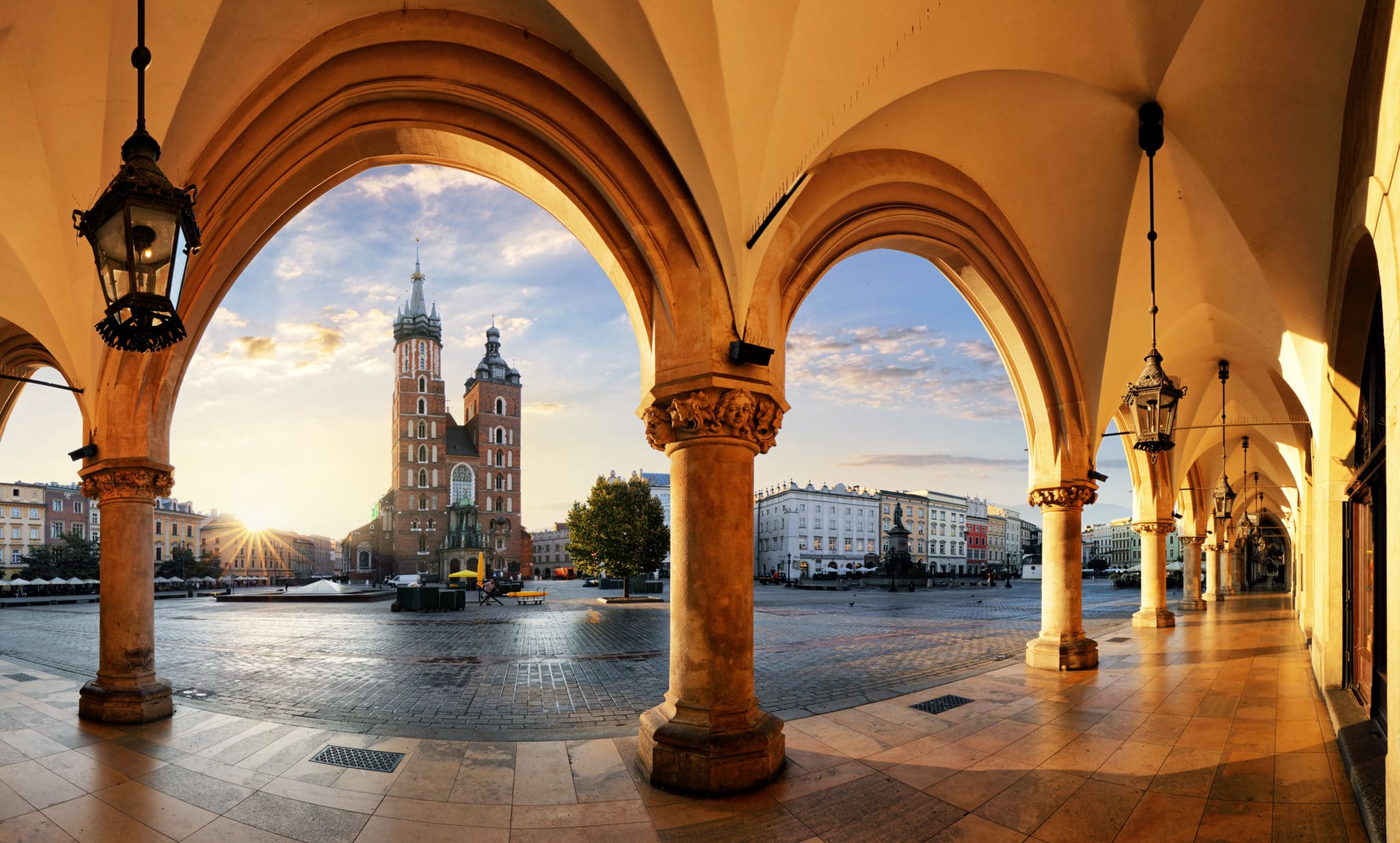 Krakow weather differs per season but varies a lot, so it is not a bad idea to check out the forecast before planning your trip. Krakow weather is warmest during the summer months, like many European cities. July is the hottest month in Krakow because temperatures can often reach as high as 30ºC. July and August are the busiest months when it comes to tourists. If you are looking for a more, less-crowded trip, you might want to visit the city between March to May or September to November.
Spring time is a fantastic, if not the best, time for sightseeing. The weather in Krakow is at that time of the year still warm enough to wander around the Main Square or enjoy drinks in one of the cafés. In spring, the weather in Krakow averages around 14ºC, also the perfect temperature to enjoy one or both our walking tours. Click here for info about all our excursions.
Although temperatures can drop to below zero during the winters of Krakow, it is still a great (and beautiful!) time to visit the city because you can take part in several indoor attractions such as the Wieliczka Salt Mines, visit Wawel Castle, or admire the art at Czartoryski Palace. During Christmas, you can find the most beautiful markets, situated on the Main Square (Rynek Glowny).
The food of Krakow
The food ranges from high-end gourmet to cheap street food in Krakow. The city will please every appetite and budget. New places are popping up all the time and at any corner. As a result, there will be enough choice for anyone, whether someone likes it loud and cheerful or quiet and elegant. Street food in Krakow is delicious and above all, very cheap. Enjoy local dishes, for example a Polish kind of pizza, the zapiekanka.
Traditional Polish food is well known for being simple and hearty. Pierogi dumplings are a local delicacy, which can be stuffed with savoury or sweet fillings. You will find these dishes served in some of the best restaurants in Krakow as well as at food trucks on the streets. It is not just local Krakow food you will enjoy here because the city offers a wide choice of international flavours, from Italian and Mexican to Thai and French, with cafés, restaurants, bistros and bars on almost every corner.
Smacznego! (Enjoy your diner!)