"Our mission is to make Poland accessible for everyone with impressive, inspirational and meaningful trips to the most beautiful cities."
A message from the new management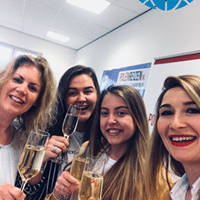 Allow us to introduce ourselves
Polandtravel is the specialist in travel to Poland. PolandTravel is founded in 2008 with the aim to make Poland accessible for everyone. In addition, in January 2018 a new management team took over the company.
We reviewed our products and made changes where necessary. Therefore we are delighted to announce that 99% of our customers are happy with our product and service!
What we offer
At PolandTravel, we create memorable and meaningful trips to the most magnificent cities of Poland. For instance, our city trip to Krakow with the excursion to Auschwitz-Birkenau. Many say it is an emotional experience and life changing. We believe it is our duty to make Poland accessible for everyone. In addition, we teach our customers about the rich history.
If you book a holiday with us, you are guaranteed that everything is taken care of. All that is left to do for you, is experience all that Poland has to offer.
All our hotels are located in the near centre. Moreover, they are handpicked by us. We frequently visit them to make sure that they are up to standard for you.
You can choose between a 3-, 4-, or 5-star hotel, depending on your preference.
All tours and excursions offered are picked out very carefully. Besides, we walk the tours ourselves regularly. That being so, we can guarantee that what you see and hear is true.
Tailor-made
All our packages are amendable. Do you have any wishes you cannot find on the website? Do not hesitate to contact us. We happily create a tailor-made trip for you!
Reviews
Just some feedback from our guests:
Received from Cliff Robinson:
Emma,
I wanted to say a BIG thank you to you, we all had a great time and everything ran like clockwork.
Once again – thank you.
Best regards
Received from Julie and Nigel Higgins on Facebook:
Dear PolandTavel, 
We have just returned from Kraków and just wanted to say how fabulous everything was the excursions and everything were first class also just a special mention for Robin Rook the walking tour guide he was amazing and so knowledgeable thank you so much for an amazing trip.
Kind regards,
Received from Janet E. on Facebook:
We went to Krakow with Poland travel in June last year, really happy with with company, pick up from airport, excursions and return to airport, would recommend Poland Travel to everyone 
Received from Liz P.:
Dear Emma, 
I wanted to pass on my thanks to you for organising our trip. We had an amazing weekend without any hitches. All transfers turned up on time and the the hotel Home staff were friendly, helpful and welcoming. Especially Kate the Bar Mananger who we had great discussions with about Polish history, she was certainly the icing on the cake and deserves some recognition too.
I always like to provide feedback and I have come away with no doubt I would use your services again and will recommend you to friends and family.
Well done a very professional service.
Many thanks